Celebrating 35 Years of Love!
It was 1984 when Helen Ashe first dreamed of creating a program to serve the needy of Knoxville. One day as she was watching a news broadcast, she saw a story about a soup line operated by Church Street United Methodist Church in Knoxville, TN. She knew, then, what her mission would be: Help feed God's children. Her twin sister, Ellen, shared in her excitement and joined Helen in her calling.
Learn more about the last 35 years by clicking the link below!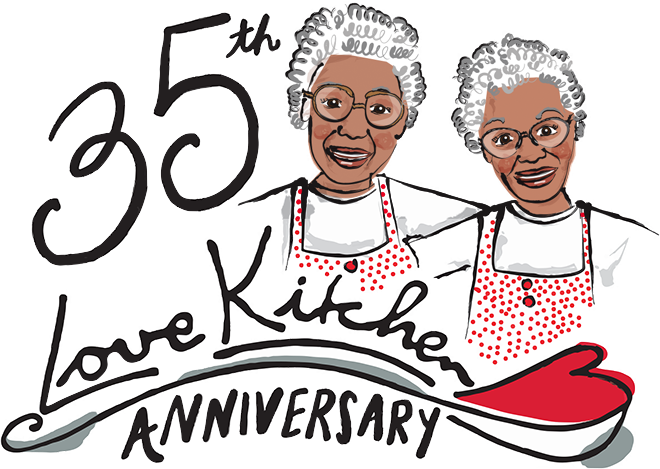 Our Mission
The Love Kitchen provides meals and emergency food packages to homebound, homeless and unemployed people of all races and faiths. We work with local agencies to provide meals and donate services in the hope of promoting the self-sufficiency of those we serve.
From the beginning, Helen wanted the Love Kitchen to run on volunteer power. Today, we honor that spirit of volunteerism by operating the kitchen and deliveries almost entirely through volunteers. This maximizes the impact of donations. Our purpose is to provide nourishment for anyone who is hungry and to establish a community center to serve as a haven supporting area children and their families. We could not accomplish this mission without the thousands of people who have graciously given their time and services over the last three decades.
Featured on the Oprah Winfrey Network
"The girl I brought with me to volunteer at The Love Kitchen is autistic and has a servant's heart. She loved coming here to volunteer and everyone was so welcoming and inviting."
"After I retired from teaching for over 40 years, I lost my sense of purpose. One day at a church luncheon, I met Helen and Ellen. All it took was Helen saying, 'Well honey, if you have time – come on down Thursday.' That was nearly 20 years ago, and I've been here ever sense. It's not work; it's fun."
"I chose to be a part of The Love Kitchen because of the sisters and how they showed love. They treated everyone as equals here and that was something I wanted to be a part of."
"The Love Kitchen is a way to give back to the people. Sometimes people are too proud to ask and here, we do it out of pure love. To me, there's nothing better than being here and giving. The Love Kitchen would be lost without it's volunteers."
"I've been a part of The Love Kitchen for nearly 30 years. I knew the sisters and fell in love with how much they cared about people and building relationships in the community. Everyone here becomes family, which allows those without family to still know they're welcome and loved."
BIG LOVE TO OUR CORPORATE SPONSORS: